Hooray, hooray, I just put the last borders on my quilt top from Judy Laquidara's workshop in Indy last year. This was the first thing I made for me from Lois' stash and I was
in love with the blocks
as soon as I made them. This quilt is not difficult in piecing, but the construction tested all my skills, including the addition of 9 borders, one of which was pieced. I ran out of fabric at border number 4 and the project was stalled...but my mom found the fabric in Paducah this year. I came perilously close to running out of the green for the last border and had to piece it like crazy to make it work. Judy made her quilt rectangular, but I decided to make mine square because way back when I thought it would make a good fall table topper. Once I started on it, I knew I never wanted to risk food being on top of it and I totally underestimated the size it would be with all the borders. The finished size is about 86" square, so it is big!
Here's a picture of it laid across our king sized bed.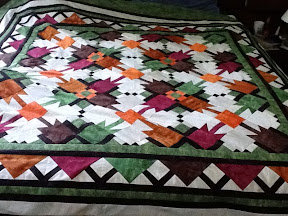 And here is a closeup of one corner so you can see all the borders.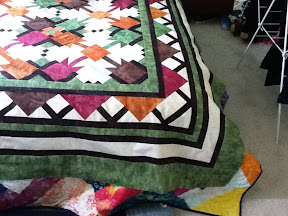 Next up is quilting the top that is on my frame and get a back made for this so that I can load it and quilt it next. It is my UFO for this quarter, so it needs to be done by the end of the month.